Vu Lab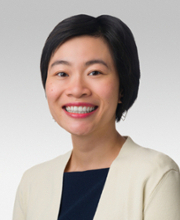 Dr. Ha Ngan (Milkie) Vu is a mixed-methods researcher who conducts interdisciplinary research focusing on community engagement, implementation science, and chronic disease and cancer prevention. She is deeply committed to building academic-community partnerships to co-develop, implement, and sustain solutions for health equity. Much of Dr. Vu's research has focused on the health and well-being of Asian Americans and immigrant populations. In addition, a major line of her research investigates the impact of policy, health system factors, and socio-cultural determinants on HPV vaccination in diverse populations, with a focus on increasing equity in vaccination.
Dr. Vu actively engages in team science and collaborates with a diverse range of experts, including behavioral scientists, public health practitioners, physicians, nurses, epidemiologists, community partners, and others. If you are interested in her work or wish to participate as a trainee, feel free to reach out to her at: milkie.vu@northwestern.edu

1. Partnership Development to Increase HPV Vaccination Knowledge, Acceptance, and Uptake among Asian American Parents and Youths
This project is a collaborative effort between our team and the Chinese Mutual Aid Association, made possible through funding by the Alliance for Research in Chicagoland Communities. Our shared goal is to develop effective strategies for disseminating evidence-based information about HPV vaccination to increase adolescent HPV vaccine uptake in Asian American communities.
2. Engage Champions in Implementation Science for Cancer Prevention and Control
Through support from the Consortium for Cancer Implementation Science, we are conducting research on the role of champions in implementing evidence-based cancer-related interventions. Our objectives are to: 1) Investigate the methods for identifying, engaging, supporting, and maintaining community and clinical champions, and 2) Describe the activities and responsibilities of champions throughout the implementation process.
3. Refugee Women's Experiences with Accessing and Utilizing Sexual and Reproductive Health Services
This project utilizes qualitative research methods to examine the experiences of refugee women living in Atlanta with accessing and using sexual and reproductive health services. We also investigate healthcare providers' perceptions of effective strategies to deliver culturally-relevant sexual and reproductive healthcare to refugee women. This project is supported by the
Georgia Clinical & Translational Science Alliance
, the
Center for Reproductive Health Research in the Southeast at Emory University
, and the Organization for Research on Women and Communication.
1. Sustainability of a Culturally-Adapted, Evidence-Based Intervention for Cardiovascular Health among South Asians at Risk
This project is supported by the NHLBI (PI: Kandula). The South Asian Healthy Lifestyle Intervention (SAHELI) is a theoretically-driven lifestyle intervention that integrates evidence-based behavior change techniques with the community's sociocultural context, needs, and beliefs. Through a mixed-methods design, we are assessing the perceptions of stakeholders from various sectors on the sustainability of SAHELI.
2. Capacity Building for Research in Health Equity and Chronic Disease
This project receives funding from the
NIH Community Engagement Alliance (CEAL)
(PI: Martin; Site PI: Spring). We are evaluating the impact of a capacity building initiative that aims to enhance the ability and interest of academic and community organizations to collaborate on research projects on health equity and chronic disease, as well as to use data in their research.