Mohr Lab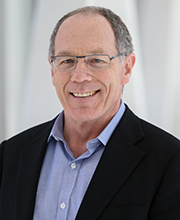 David C. Mohr, Ph.D., trained as a psychologist, is Director of Northwestern University's Center for Behavioral Intervention Technologies (CBITs) and Professor of Preventive Medicine, with appointments in Departments of Psychiatry and Medical Social Sciences. He also oversees the Multidisciplinary Postdoctoral Fellowship in Digital Mental Health (DMH).
Dr. Mohr's research lies at the intersection of behavioral science, technology, and clinical research, focusing on the design, evaluation, and implementation of digital mental health technologies and services. He has developed and evaluated numerous web-based and mobile interventions for depression and anxiety. While there has been much research over the past decades demonstrating the effectiveness digital mental health interventions, successful implementation in healthcare settings has been elusive. To address this research-to-practice gap, an overarching goal of Dr. Mohr's current work is to design, evaluate and sustainably implement digital mental health services in real-world healthcare settings.
Dr. Mohr is also conducting research in personal sensing, using smartphone sensor data to detect behaviors related to common mental health problems such as depression and anxiety. The goal of this work is to develop more efficient tools that can respond to sensed states to provide just-in-time interventions.
Learn More about the Center for Behavioral Intervention Technologies (CBITs)