Alshurafa Lab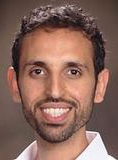 The Alshurafa Lab (Health Awareness Bits Lab, or HABits Lab), led by principal investigator Nabil Alshurafa, PhD, conducts interdisciplinary technology-supported research to test novel approaches that help us detect, understand and ultimately prevent problematic lifestyle behaviors. Our work seeks to advance passive sensing systems and algorithms through novel signal processing and machine learning techniques to support interventions that foster healthy lifestyles through the use of passive sensors. Our current research seeks to transform our understanding of health constructs related to problematic eating and stress by designing objective verifiable wearable sensor measures, to more effectively design interventions that improve lifestyle habits.
Ongoing Studies
Studying Overeating in Obesity Through the Lens of Passive Sensing (SenseWhy Study)
The SenseWhy study is part of a five-year NIDDK NIH K25 career award, aimed at laying the foundation for studying overeating behaviors among participants with obesity through passive wearable sensors. This study aims to collect sensor and EMA data from adults with obesity and apply machine-learning algorithms to identify a subset of features that can be used to detect overeating using passive sensing with and without Ecological Momentary Assessment (EMAs). The goal is to enable behavioral interventions that pre-empt and prevent overeating by providing objective detection and prediction of overeating in real-time. The study will improve the accuracy of detection, ability to detect problematic eating behavior, and predict overeating. It is also designed to discover problematic behavioral phenotypes and how they overlap with theoretically meaningful and clinically known problematic overeating behaviors. Our goal is to ultimately understand habit formation through characterizing and studying participant variability of overeating episodes. The study is funded by The National Institute of Diabetes and Digestive and Kidney Diseases (K25DK113242-01A1).
Promoting Healthy Brain Project (Wellness for 2 study)
The primary purpose of this study is to examine the impact of prenatal stress reduction on maternal well-being and early life neurodevelopment. The overarching goal is to improve child neurodevelopmental trajectories by reducing maternal stress during the pregnancy. The study uses a wearable band-aid-type device will unobtrusively capture and record physiological signs of stress such as maternal heart rate variability. An algorithm combines the sensor data with self-reported stress levels via a smartphone to estimate daily stress levels. Expectant moms under stress receive real-time customized mindfulness techniques via text messages that refocus them on pleasant thoughts or positive activities. The intervention will be tested in a randomized controlled trial of 200 mothers and their babies to be launched at Prentice. The study is funded by the Ann & Robert H. Lurie Children's Hospital of Chicago and Stanley Manne Research Institute. We are currently recruiting. To learn more about the study and see if you qualify, contact us at wellnessfor2@northwestern.edu.